10 Awesome Pool Accessories For Adults
A swimming pool never loses its appeal even as we grow into adulthood. It's still cool, relaxing, refreshing but has become a little less... fun.
This once very exciting part of your home becomes more of a place for kids (if you have them) though it seems unfair that kids have all these toys for the pool but none of that fun for the adults!
Fantastic Pool Accessories
The thing is, adult pools don't need toys. They need accessories. And we've rounded up 10 of the most awesome pool accessories for you.
Floating Waterproof Pool Speakers
Gone are the days when you can't bring the stereo near enough to the pool because it might get splashed by water, so, you just pumped up the volume of the speakers, to the great annoyance of your neighbours. Now, you can listen to your favourite party music right on the pool with floating waterproof pool speakers.
These pool accessories are wireless, enabling you to access your iTunes or Spotify playlists. They have different volume levels and a strong subwoofer that produces rich and crisp sound even in the outdoors. And because these floating pool speakers are completely waterproof, you are guaranteed of quality sound.
Available from Pool & Spa Warehouse for $89.00.
Pool Hammock
Do you want to just relax and float around while reading a book or drinking a cold one? Then an inflatable pool hammock is the right pool accessory for you. Measuring 27.5 inches by 54 inches, grownups will have no problem staying afloat because it can hold up to 250 pounds. This pool hammock float is made out of woven fabric, which will help you stay cool while out of the water. Easy to inflate and deflate, this is your perfect partner for a quick relaxation on your backyard pool.
Available from Pool & Spa Warehouse for $40.00
Inflatable Flamingo drink holders + floating esky
Speaking of pool relaxation, one of the awesome pool accessories for adults is a floating drink holder. You can choose between an inflatable flamingo drink holder to hold a single drink, or a rainbow cloud drink holder, which is like a floating esky to a number of beverages. Come to think about, why not get both so everyone in the pool is happy. And don't worry about dropping your Carlton Draught or Coke, because these floating holders are stable and designed not to tip over.
Buy the floating cooler now from Catch for $24.99 and the cute flamingo drink holders from Discount Party Supplies.
Inflatable Canopy Sun Lounge
Right now, you're probably thinking, "Is there a pool accessory where I can lounge and float around, with a drink holder and more importantly, has protection from the sun?". Yes, there is! It's called inflatable canopy sun lounge and it has exactly what you want. It has a comfortable backrest so you can sit comfortably, two built-in cup holders for drinks to keep you hydrated, and a detachable sunshade to keep those sunburns away. Now, that's what we call luxury pool relaxation.
Inflatable Movie Screen
Remember Wet 'n' Wild's Dive-In Movies? The Gold Coast waterpark used to have dive in movies during the summer months and were favourite for visitors. The waterpark no longer offers it, but you can have your own dive in movies on at your home pool with an inflatable movie screen.
The unit measures 12 feet by 11.5 feet, while the screen is 144 inches. It's a perfect size for a whole pool party to watch Jaws or The Meg in Netflix. The package includes stakes and tethers to keep the whole unit in place. So, invite the whole gang, schedule a "grown-ups ONLY" pool party and have your own dive in movie at home with this inflatable movie screen.
Available from SmartDigital.com.au from $1399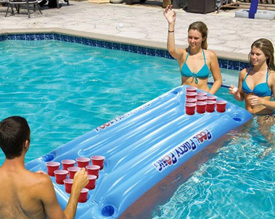 Pool Beer Pong
One of the awesome pool accessories for adults was, perhaps, invented for 18 year olds and uni students. Reminisce the carefree version of yourself with a pool beer pong set. It comes with two scratch and tear resistant racks (10 cups each) and a handy cooler in the middle to store your drinks. Your aim will be truly tested too, as the racks are moving around compared to ordinary beer pong. When you're done with the game, you can also use the racks as floating drink holders.
Available from Catch for $59.95.
Mermaid Tail Float
Do you want a social media-worthy photo while lounging on the pool? Then this mermaid tail float is the ultimate pool accessory for your next selfie. No need for filters, this floating island has vibrant colours that are great for pictures and videos. Or if you're not worried about selfies, this float is great for simply relaxing in the pool.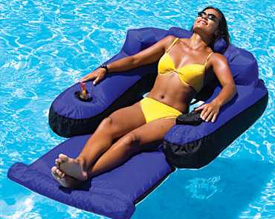 Inflatable Lounge
Many adults would rather relax and enjoy a quiet time at the pool than play games or listen to loud music. If you are one of them, a comfortable inflatable lounge is the right pool accessory for you. Feel relaxed as you bathe under the sun to get that nice tan. Mixed with the luxury of having drinks on the pool and a great style that looks amazing on pictures, inflatable lounges will make sure your alone time will be as relaxing as you want it.
Available from Clark Rubber for $41.97
Pool fountain
Make your pool more fun and entertaining with a swimming pool fountain. It's one of the awesome pool accessories for adults that will bring more aesthetics to your backyard pool. The nice display of cascading water will make it more interesting for everyone and urge them to jump into the pool. You can adjust the fountain spray to whichever height you fancy, but you should know that it can go to as high as 16 feet.
Available from Pool and Spa Warehouse from $65
Ring Toss Game
The ring toss is one of those games that never get old. So, why not bring the fun of showing your tossing skills on the pool. Best for pool parties, the Unicorn Ring Toss Pool Game set includes two unicorn floats with horns and four multi-coloured rings. The units are easy to inflate, which makes it quick to set-up the game. Whenever your home pool party gets a little boring, you'll have this ring toss game on your pocket to continue the fun.
Available from Theraquatics for $5.95

Whether you want to enjoy your home pool alone or with your friends, these awesome pool accessories for adults will make it more fun enjoyable. The next time shop for pool accessories for your kids, don't forget to buy something for youself because adults need fun and excitement too.
Have kids? Don't forget to check out our article on the best pool toys for kids. 
Back To Articles